Influencer Jessica Beileiter, known as
Clean Organised Mumma
over on Instagram, is exactly that. This organisation queen knows how to keep a busy family home humming, and here she shares her top organisation tips, just in time for the back-to-school rush.
What does a typical day look like for you?
I try to wake up before my family to get a few of my daily tasks done, such as
laundry
and unpacking the dishwasher. Most weekdays, I drop my daughter at daycare, and then I will either have a client session, be running errands, or be doing admin for my business,
Clean Organised Home
.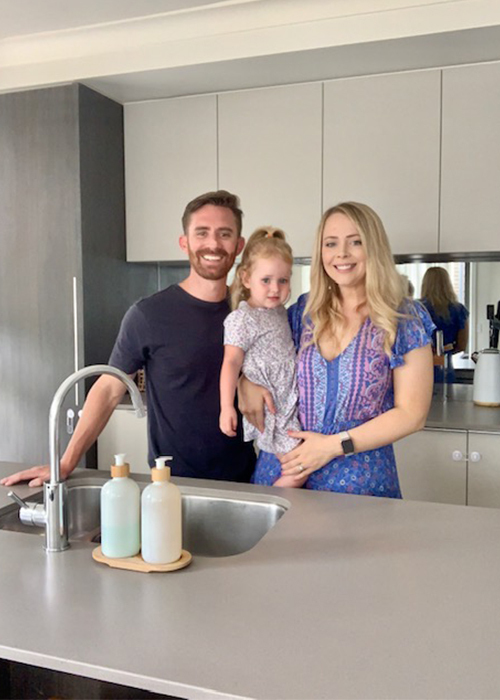 Do you have any daily habits that keep things running smoothly?
Yes! I am big on maintaining my daily habits. In the morning, I always try to get one load of washing done, clear the
kitchen
after breakfast, empty the dishwasher and take my vitamins. In the evenings, I leave the kitchen clean and tidy, set the washing machine on a time delay for the next day,
vacuum
, pack bags and, if possible, put everything in the car to help with those busy mornings.
What about weekly habits that set you up for success?
I have a weekly cleaning schedule that helps me keep on top of the cleaning throughout the week. On Sunday, I like to do a deep clean of the kitchen so it's nice and fresh for the following week, and I also plan out my week in my diary so I know exactly what's in store.
​
Your kitchen is amazingly organised! Can you run us through how you organise your pantry, fridge and countertops?
Pantry:
My pantry is categorised into different food items like canned foods, snacks, baking and meal bases. I use airtight
containers
for things like rice, flour and pasta, and
carousels
are fantastic for storing sauces, oils, vinegar and breakfast spreads. Labels are a huge part of how I keep my pantry organised. I have some lovely vinyl labels that make it easy for the whole family to find what we need.
Fridge:
My fridge is organised using clear
containers
with labels for different categories, such as cheese, deli meats, leftovers, meat and dairy. And I love using a turntable for condiments or jars, so they don't get lost in the back of the fridge.
​
Countertop:
I love having a clear countertop, but this space does tend to become a dumping ground, so I have a little file holder for random bits and pieces like my husband's wallet, my diary and pens etc. I also have a
utensil holder
on my counter with some lovely white
silicone utensils
, plus our
kettle
and
coffee maker
.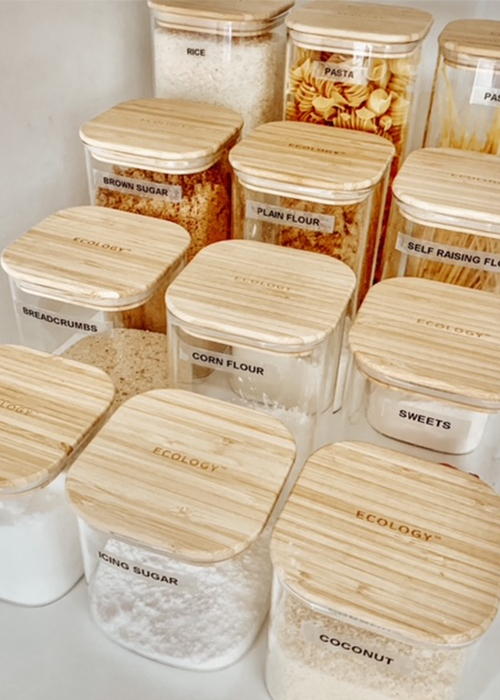 How do you suggest creating an organised kitchen that looks beautiful?
The first step would be to declutter your cupboards and drawers. I love using
file holders
to store
baking trays
and
chopping boards
inside the cupboards to ensure everything looks organised while also being super functional. Try to keep countertops as clear as possible, as large appliances out on the countertops tend to make the kitchen look cluttered. I also love incorporating a
candle
or
plant
to add a little style to the kitchen.
Do you have any tips for organising school lunches?
I love prepping my daughter's lunch the night before. You can pre-make a sandwich or wrap and put it straight into a
lunchbox
in the fridge the night before, or you can make a whole week's worth of sandwiches and keep them in the freezer—pull one out each day and by lunchtime, it will be thawed and ready for the kids to enjoy. A batch of muffins or banana bread is also easy to freeze for the week, and I like to prepare my weekly fruit and veggies and keep them in airtight
glass containers
so everything is cut up and ready to go.
How do you organise your home to keep things clean and tidy yet kid-friendly?
I have designated zones for
toys
, so they are not all over the house, and I always try to reset the toys each night. Having kids means the house will always get messy, but if you pick up as you go or do a few resets throughout the day, it will be a lot less overwhelming at the end of the day. It's also fun to get the kids involved in the tidying up.
​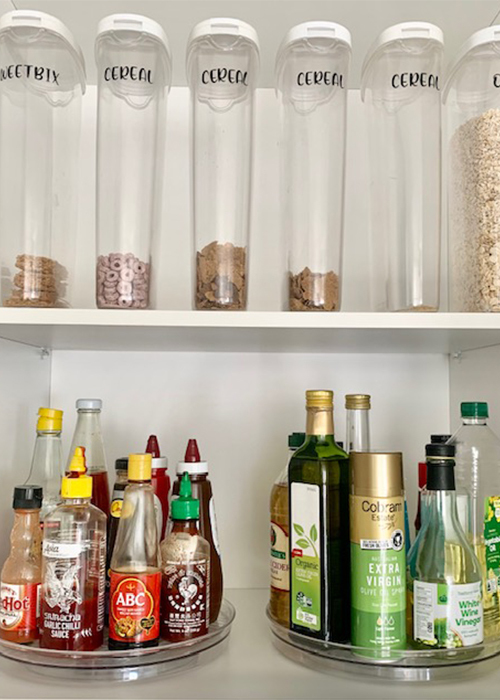 What are the three organisation products you can't live without?
This is a tough one, but I would say turntables, as they are so versatile for so many different spaces, plain white tubs that can be used throughout the entire home to organise anything, and lastly, a labeller.
What about your favourite cleaning products?
I love microfibre cloths because you can reuse and wash them so them many times.
Koh cleaning solution
can be used on just about anything, and Gumption is amazing for walls, stainless steel and any stains on benches.
What's the number one tip you can pass on to help people maintain an organised life?
Try to find your morning and evening routines to set you up for the day ahead. Daily tasks will always help you keep on top of the chaos, and this could be doing a load of washing a day or prepping lunches the night before. It's about finding what works for you and your family. A to-do list and planning your week, whether writing it down physically or digitally, is something that can help with the mental clutter and overwhelming feeling we sometimes get when we have a million things to think about. Having everything written down will give you the motivation to tackle what you need to get done.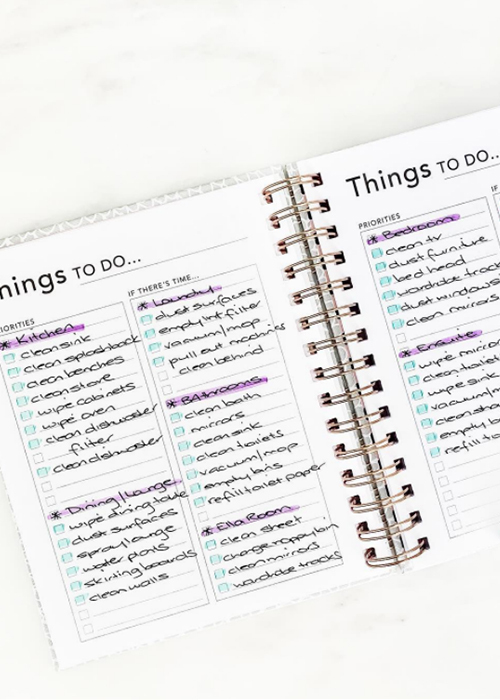 What's a common mistake people make that hinders organisation?
The main mistake I've seen is not measuring your spaces before you try to organise. This results in different sized containers or tubs that don't use the space to its advantage. It's best to take your time to measure, research the best available products and work out what you need. The right fit will create a much more functional space in your home.
How do you manage your family, workload and domestic tasks?
It can be a tough balance, but my cleaning schedule really helps. Not rushing around on the weekend and trying to clean the whole house at once is a big change I made a few years back. Instead, I slowly tackle one room a day for 15-20 minutes, which frees up the weekends to spend with family and friends.
How do you like to relax and take a moment for yourself?
When I get spare time, I love to binge a good TV show or go for a massage. I'm also back into reading and try to read at least a chapter a night before bed.
For more organisation inspiration, check out our guide on how to organise your pantry.